COCA Overview
Enriching lives and building community through the arts
COCA (Center of Creative Arts) uses the power of the arts and education to build a vibrant St. Louis that is creative, connected, and inclusive. A national leader in innovative arts education, COCA provides meaningful arts experiences in our studios, gallery, and theatres, as well as in schools, community centers, and corporate settings around St. Louis.
The fourth largest multidisciplinary community arts center in the country, we annually serve more than 50,000 people of all ages, backgrounds, and ability levels—from enthusiastic amateurs to emerging professionals—all taught by our faculty of distinguished teaching artists.
Through dance, vocal music, theatre, art and design, and beyond, we nurture the artistic and creative potential in our students—and our community.
COCA is one of 18 organizations to be nationally accredited through the Accrediting Commission for Community and Pre-Collegiate Arts Schools (ACCPAS).
---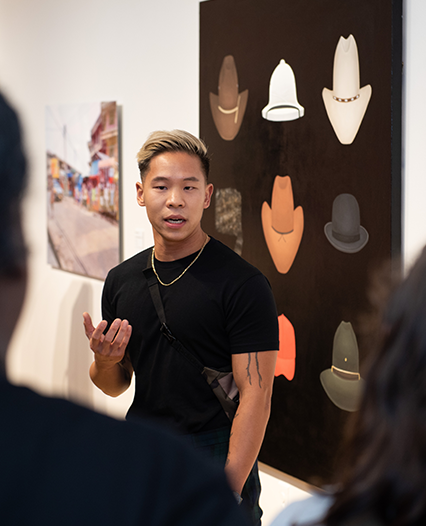 We Serve
Dedicated students in dance, voice, theatre, and art and design
Recreational learners of all ages across arts disciplines
Area schools and educators through our COCAedu program
Business leaders and corporate teams through our COCAbiz program
Community members through our performances and exhibitions
We Value
The creative potential of everyone and the transformative power of the arts to change lives
Both the artistic process and the artistic product
Diversity and serving as a bridge to connect people
Inclusiveness and removing barriers to make the arts accessible
Collaboration
Innovation and delivering thought-provoking, relevant programs and experiences to the communities we serve
The people who work and volunteer to support our mission
Our unique St. Louis home and the community that is created when people learn together through the arts
Our Commitment to Equity & Inclusion
COCA is committed to actively and intentionally operating as an anti-bias, anti-racist institution. As such, we promote policies, practices, and programs that create courageous spaces for our COCA community to dialogue toward understanding.
We know art is a powerful instrument for social justice. It is a means for people to share history, culture, and perspectives, celebrate differences, challenge assumptions, and find common ground. We aim to be a home to people from all backgrounds. We do not discriminate based on race, national or ethnic origin, citizen status, veteran status, ancestry, age, religion, disability, sexual orientation, gender identity, or any other basis of discrimination.
COCA is dedicated to advancing anti-bias, anti-racism work as we grow. As a learning institution, we understand that this work is an iterative journey. We will continue to evolve our strategies in collaboration with our communities in order to remain relevant and impactful.
Our Story
COCA's story starts with a small group united by friendship, idealism, and an entrepreneurial spirit—Richard Baron, Dorothy Dubinsky, Mark Twain Banks, Robert Orchard, the Sachs Fund, and Trivers Associates. Together, they transformed the vacated historic B'nai Amoona Synagogue into a community-based visual and performing arts center. The idea: through the arts, COCA would serve as a bridge to connect people.
COCA began as an arts incubator with studios, a gallery, and a theatre in the synagogue's former sanctuary. More than 30 small arts groups moved in, but much of the building remained empty. Founding Executive Director Stephanie Riven's first task was to develop classes in the performing and visual arts—programs that would eventually become the core of the organization.
Under the leadership of Former Executive Director Kelly Pollock (2010–2022), COCA has expanded our reach and impact through innovative new programs that push boundaries, all aimed at building St. Louis' creative capacity.
In August 2020, COCA successfully completed our Create Our Future Campaign, raising $49 million over a four-year effort to support the renovation of the Kuehner West Wing and the construction of the Ferring East Wing, an accessible, state-of-the-art expansion which includes the 450-seat Catherine B. Berges Theatre. In February 2023, Indigo K. Sams joined COCA as the first President & CEO.
---
COCA Core Sponsors
The Bellwether Foundation
Dula-Kobusch Charitable Trust
E. Reuben & Gladys Flora Grant Charitable Trust
Gertrude & William A. Bernoudy Foundation
Pershing Charitable Trust
The Saigh Foundation
Spoehrer Family Charitable Trust
US Small Business Administration
---
Affiliations
BBB Accredited Charity
Become a Member
Make an impact and maximize your COCA experience with behind-the-scenes access, special perks, and insider engagements.